Dot Starlight is an astrologist and friends with Bea Spells-A-Lot. Both of them are theoretical scientists.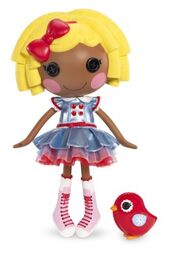 She is not that good at math and sometimes has problems with it, but her friends are always willing to help her. She has a pet bird.
About Dot
Dot Starlight is a dark skinned girl with bright pink cheeks and blond-yellow hair set in chin-length curls and wavy bangs. She wears a red headband with a bow on the right side of her head. Dot wears a platinum-blue and red dress with a small ribbon belt around her waist, a white neck, four red buttons, and red lining. She also wears white socks with red at the top and pink high-cut sneakers with red shoelaces. She has a little brother named Astro Starlight, and a little sister named Moon Starlight.
Pet
Her pet is a red bird.
Trivia
She is the first not to be a fanon character.
Gallery