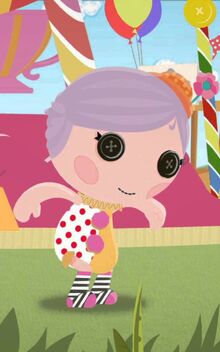 Squirt Lil Top is a awesome circus peformer in all of Lalaloopsy Land. She's a performer and a bit of a showoff just like her older sister Peanut Big Top but sometimes she can be better then Peanut. She learns all of her tricks from Peanut.
Squirt is a fair skinned girl who has shoes that her older sister had when she was a baby her dress is different then Peanuts but it's has pom poms on it in the mini sister pack squirt does not come with her pet peanut worm it comes with her older peanut's elephant. Her name comes from what saity treats elephants love to eat as well as large circus tents that are the big tops. In A Little Change Of Place she was Jewel's little sister. When she was Jewel's little sister Jewel does not like what she does to Suzette La Sweet's Poodie and Cat and Kitten
Pet: Her pet is a peanut worm that has a pink bow tie in the middle of its body
Home:
Squirt lives in the circus house with her older Peanut.